"Blocker is a standout. His 17 characters (one is the narrator; another is a June bug) include Viola; the newcomer bar owner Odessa (Big Otis) Cole; the dimwitted Jimmy Townsend, who loves Viola and even gave her the television set he won at a chili cook-off; and Mrs. Wong, the owner of Aberdeen's only Chinese restaurant."
- The New York Times, 1/27/2009, Anita Gates

Brochure: Page 1 | Page 2 | Page 3 | Page 4

"Unique and utterly brilliant, Southern Gothic Novel is a must-see for anyone interested in innovative, beyond-the-fringe theater."
- The Philadelphia Bulletin, 1/30/2009, Sam Oglesby

"What a delight to watch even villainous characters imbued with so much life and charm."
- Backstage Magazine, 1/22/2009, Mark Peikert

"Pot-boiling plot twists, wind-blown june bug metaphors, cliff-hangers, bad men, good ladies, local gossips, and more."
"This is a funny show with a surprising amount of heart."
- About.com, Paul Cozby

"If anybody can bring back the art of storytelling..."
- Electronic Link, 1/22/2009, Laurie Lawson

"If there are any casting directors out there looking for a first rate character actor, please check out Southern Gothic to see the extremely talented Frank Blocker perform."
- Talk Entertainment, 1/22/2009, Oscar E. Moore

"The story is written beautifully. It's almost poetic at times."
- theatreiseasy.com, 1/18/2009
---
Southern Gothic Novel:
The Aberdeen, Mississippi Sex-Slave Incident
Opens January 21
Every Wednesday @ 8:00pm through April 1 (run extended!)
at Stage Left Studio, 438 W. 37th St., Suite 5A
Buy Tickets at SmartTix
conceived and performed by Frank Blocker
directed by Cheryl King
as featured on Playbill.com on opening, BroadwayWorld for the extended run, and WOR's Joey Reynolds (1/14/2009-1:30am Eastern)
---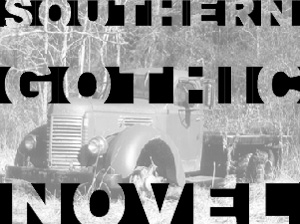 More quotes from festivals and workshop productions:
"A dazzling array of dysfunctional Southern characters that surpass anything Margaret Mitchell dreamed up for Gone With The Wind." - Show Business Weekly
"Plenty of plot twists and red herrings here, all of that mystery affording Blocker the opportunity to showcase his ample talents and keep the audience entertained." - TheatreMania, Dan Bacalzo
"Both archly satirical and sweetly ingenuous ... wry sophistication and gleeful, childlike abandon." - nytheatre.com, Terri Galvin
"Certain to satisfy the cranky inner toddler of even the most jaded New York theatergoer." - nytheatre.com, Terri Galvin
"If Tennessee Williams had written a one-man Greater Tuna about a Mississippi town as a showcase for a chameleonic talent, the result would be as poetic and sadly funny as Novel, a nuanced tour de force for writer-performer Frank Blocker." - Columbus Dispatch
"A theatrical tour-de-force ... Blocker's writing is sly, sharp, erudite and unerringly funny, and his talent for voices and characterization is simply wonderful." - Next Magazine, David Robert Hurst
"As escapist as one can get in the theatre and the yarn that's spun is equal parts cautionary tale, fairy tale, moralist tale, and Shakespearean comedy." - Associated Content, Jesse Schmitt
Interviews from past workshops and festivals:
TheatreMania feature | Southern Voice feature

---
There are 5,218 people living in Aberdeen, Mississippi.
This is the story of 17 of them. And. The men that caused all of the trouble.
The whole thing started when Viola Haygood, the Assistant Librarian at the Charles B. Evans Memorial Library, fell in love for the umpteenth time. This one was new in town.
He was tall.
He was dark.
He was handsome.
And he smelled really good.
It was the dark coincidence of his arrival that caused the locals to comment.
Someone was kidnapping Aberdeen's young women. They were eating cheese nachos at Big Otis's Saloon one night and gone the next. Not so much as a by-your-leave.
The town was getting nervous.
They were locking the stately front entries of their antebellum homes and the aluminum screen doors of their double-wide trailers.
For the first time.
Ever.
They would have called in the FBI but they didn't have to, as that particular organization was proud to boast a national office on Aberdeen's Main Street that runs along the scenic banks of the Tombigbee River.
This was a town in an uproar.
Dirty deeds being done dirt cheap.
Women being snapped up and carted off to who knows where.
FBI running up and down the streets like they knew which way was up.
Reporters descending like locusts. Lawyers locking and loading.
And Frank Blocker plays them all.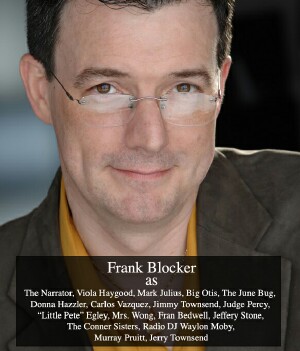 ---
Show History
The play was originally a web-serial and a writing exercise. The late Murray Scott Changar was the first to help in the development of the piece from novel-in-progress to the solo play format. Additionally, the direction of Gabriel Shanks and the stage management (and other assistance) from Cara Vander Weil, as well as the amazing support of Shannon Maddox, proved invaluable during the festival and workshop phases. Events leading up to the off-Broadway premiere are listed below.
2008, Stage Left Studio
The Left Out Festival, NYC, at Stage Left Studios ... specialty run of workshop productions.
September 2004
Columbus National Gay & Lesbian Theatre Festival, Ohio, at 2Co's Cabaret, a partner of Shadowbox Cabaret Companies.
September 2004
The Sky Bar, Mt. Washington Tavern, Baltimore, Maryland, two shows/one-nite only benefit performance for Creative Mechanics.
July 17, 20 & 31, 2004
Midtown International Theatre Festival, Jewel Box Theatre, NYC
Feb 11-22, 2004
Whole World Theatre, Atlanta, GA
December 2003
One-night-only performance at Rose�s Turn in the Village, NYC
October 2003
Invited to present at The Colleen Dewhurst Theatre for The Playwrights� Project, Westchester County
August 2003
Performed as part of the 2003 NY International Fringe Festival, a production of The Present Company. The Red Room, 2nd Ave. @ 4th St.
1994-2000
A "web-serial" as the ongoing novel Viola's Orchestration, at Mojoski and at The Very Write Reverend (now defunct).
---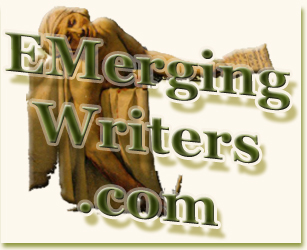 All material copyright 1994-2009 ©
All rights reserved | e-mail webmaster | EmergingWriters.com
---